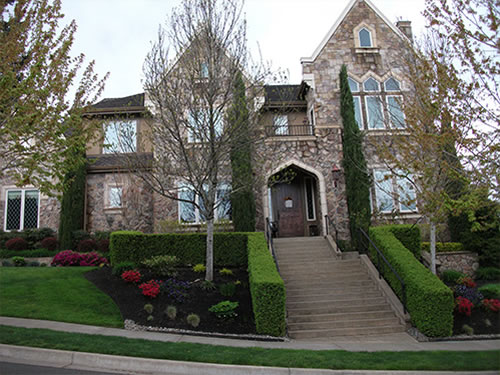 Your Medford Realtor
Whether you are looking for a new home or marketing real estate, choosing the right realty company makes all the difference. You want to find a local realtor in Medford that delivers personalized service. This is the easiest way to get your needs met and meet your goals. A real estate company you can depend on watches out for you. At Tree House Realty, LLC. we aren't just your local real estate experts, we're your greatest ally.
There's a secret nationwide real estate firms don't want you to know.
Realty companies all have access to the same tools—the difference is in how they use them and whether or not they make you a priority.
You and your needs are our first priority.
Our business is built on client satisfaction. Our agents and brokers work for you and with you. Deciding to list a home is a major step—so is deciding to buy. As a realtor that works with home sellers and home buyers throughout Medford, we have in-depth knowledge of both sides of the industry. This allows us to get you:
The greatest return on your property when you decide to sell your home.
A competitively priced property that won't sit on the market for long.
Required home inspections before you can legally make a sale.
MLS listings in the most widely viewed local metropolitan areas.
Our firm's real estate agents and MLS realtors use best practices that allow us to:
Help you locate a home that meets all of your needs and wants.
Get a complete home inspection from a trusted local inspector.
Make an offer which factors in any and all problems the listing may have.
Fill out all the necessary paperwork and guide you through the buying process from start to finish.
Realtor Services
We offer a diverse range of services that include:
Buyers agent/Sellers agent
Listing services including MLS
Buyer broker services
Bank owned properties
Investment properties
Foreclosures
Short sales
New construction projects
Land development
Fixers
Sustainable housing
Energy efficient housing
We don't just operate with efficiency, we live it.
As a realtor that's dedicated to the protection of our natural resources, we put that knowledge to work when we help you find a home in Medford. Our managing principal broker is certified in sustainable practices. If you're looking for a modern energy efficient home that reduces energy usage and costs less to heat and cool, we're your real estate company.
It's no mistake that Oregon is one of the most naturally stunning places in the world to begin your real estate search. Home sales in the Medford area are increasing yearly as major companies continue to move in and expand. We will get you into the home you've been searching for—or sell the one you're ready to leave.
Make Real Estate Work For You
It shouldn't be a trial just to get your real estate firm on the line. We give every client our complete attention and utilize all of our resources from the start. We're with you at every single step, so call or contact us and start moving forward today.
---
Special Offers
Mention TreeHouse Realty at Porteco Lighting and save 10% on New Fixtures
Mention TreeHouse Realty and save 15% off removing scratches from you stainless steel
Mention TreeHouse Realty to Receive up to 30% off at Area Floors
Mention TreeHouse Realty to Receive up to 10% off at Pro Source Plumbing
Mention TreeHouse Realty to Receive up to 20% off at Club Carpet Cleaning
Mention TreeHouse Realty to Receive up to 10% off at Garden Frog Nursery
Mention TreeHouse Realty to save money on home inspections at Environmental Works
Proudly serving Beaverton, Medford, Portland and the surrounding areas
---
Kevin is extremely knowledgeable and honest. He is easy to work with and makes himself available all the time. I felt that my interests were very important to him. He knows all the ins and outs about buying and selling and he's a really nice person too! I would highly recommend him and his team.

5/5 stars

Kevin made the selling experience so smooth. His knowledge of market value and experience as a realtor helped us get way more for our home than I originally expected. We were trying to sell property in another state and he assured us that he would take care of everything and he made it the smoothest/easiest process possible, even down to offering to trim our bush out front. He went above and beyond in everything he did and I am very grateful for the experience of being able to work with him. I would for sure recommend him to friends and family and hope to use him again if we end up back in the Portland area.

5/5 stars

Kevin was an amazingly patient realtor as I bought my first home. He understood and really listened to what I wanted, even though it took over a year to finally find the perfect home. He stuck with us through a short sale that fell through and never let us feel alone. I would recommend him to anyone I know buying or selling a home. He is fantastic!

5/5 stars

Kevin is the hardest working realtor my wife and I have met in a long time. He listened to our needs and delivered excellent service. I would recommend him to anyone looking to buy or sell a home.

5/5 stars

Kevin is an A+ agent. Knowledgeable about the market, builders, inspections, and more. He helped me through an unusual and complicated situation with my property and still sold within my desired selling price.

5/5 stars

Kevin with TreeHouse Realty was the second realtor we tried here in Oregon. Our first one, with a different company, just didn't listen to us when we told her what we were looking for and tried to push us into homes faster than we were comfortable with. Kevin was the opposite of that. He listened to all of our "must haves" and bent over backwards to try and get us into places that met as much of them as possible. He was always quick to get back to us and when we finally found a house we were happy with, he was a strong advocate for us when the seller's realtor got pushy. I can't recommend Kevin highly enough, he'll do right by you.

5/5 stars

Kevin really cares about his clients. We really felt like he had our best interest in mind throughout our buying and selling process! We were dealing with some tough and rather unreasonable sellers and he managed to stay courteous, professional and never gave up on us.

5/5 stars

There couldn't be more of an honest Realtor in the business. I highly recommend Kevin to anyone looking for a professional agent that always looks out for the best interest of his clients ahead of his own. Kevin is very knowledgeable and committed to his craft.

5/5 stars

My wife and I have been looking for a residence in Medford for quite a while. When we finally found a house which we liked it was after 5:00pm on Saturday. Even at this late hour, Kevin went to work and got us in contact with the listing agent which was David Patterson. Both Kevin and David made the buying process a pleasure. Professional and competent both worked hard to close the deal in a timely fashion over the weekend. I would highly recommend both for any real estate transaction.

5/5 stars

Kevin gets right to the point and tells you how it is. He'll keep working hard to find you the house you're looking for and help you along every step of the way.

5/5 stars

Kevin email right before the property was going to list, and we moved quickly to secured the price for us. He was fully aware and keep us inform, he new what to point out to us when looking at homes that needed some TLC. He advised of what inspections he felt were needed so we could make an informed decision. He explained every step to us in terms we understood. We would highly recommend Kevin to anyone looking to purchase a home.

5/5 stars

From the minute we listed our property with Kevin, he made our experience easy. We had used other realtors in the past for the same property with few to no showings or open houses. Kevin worked hard to get our listing visible to as many agents as possible and boy did it pay off! We received two offers in the same day and closed on the property yesterday, thanks to Kevin! We highly recommend him!

5/5 stars

Kevin was very knowledgeable about the market, the different neighborhoods, and what I liked best, was the fact he was very responsive. He has obviously done many deals in the past.

5/5 stars

Kevin Ayotte of Tree House Realty is a true asset when purchasing or selling your home. Rarely do you meet an individual that truly has your best interest at heart. Throughout the selling and buying process Kevin made sure we were comfortable each step of the way. We never felt pressured to "just get it done" like other realtors we have dealt with. Kevin's detailed evaluation of our home and neighborhood got us top dollar for our home when other realtors suggested lower listing prices. When it came to purchasing our new home Kevin again went above and beyond our expectations. We can't thank Kevin and his staff enough and would recommend their services to anyone.

5/5 stars

You're one of the only realtors who has ever gave us info on the homes (ie: take shoes off to feel floor boards, and roof condition). All others had just opened the door and let us look. So thank you for caring about your clients!

5/5 stars

Kevin from Tree House Realty helped us purchase our new home. He is very knowledgeable in all aspects of the process. He was fully aware of other homes in the area to use as comparisons, he knew what to point out to us when looking at homes that needed some TLC. He advised of what inspections he felt were needed so we could make an informed decision. He explained every step to us in terms we understood. We would highly recommend Kevin to anyone looking to purchase or sell a home.

5/5 stars

Kevin sold our home for the price we wanted and found us a lovely new home UNDER budget! Besides that he communicated with other realtor's and our Mortgage Broker (shout out to Donni Phommany!!) to close both within thesame week. We felt like we got the full experience and understood what washappening (both sides) at all times. Kevin has the patience of a saint too. When my husband and I could not find common ground in what (or where) we were really looking for. Kevin tirelessly showed us home after home. We would send him a list of homes to see and he made it happen in short order. In each home he pointed out what was quality construction and what was not. It seemed he was checking the listings more than once a day and was letting us know of property's that were in our price range (we saw some within a couple hours of listing - including the home we purchased). Kevin understands that everyone experiences the process in their own way and it's not a one-size-fits all. We felt he truly had our best interest in mind at all times. He earned every penny of his commission, yet never made us feel like we were being difficult (even when we knew we were). We highly recommend Kevin Ayotte for your next real estate transaction. Thank you Kevin!

5/5 stars

Kevin was the absolute best. I connected with him from a street sign. He immediately showed me 5 houses within 1 hour of our first call. He helped me deal with contractors and negotiated very well. His communication skills were great and he was very patient and understanding when I kept on changing my mind.he was never late and responded instantly it questions or concerns. He set me up in absolutely the best house possible for my money. I can't believe it!! I would highly recommend Kevin to anyone anytime.

5/5 stars

After interviewing 3 other agents all associated with different big name real estate firms, I finally chose Kevin at Treehouse. I liked that he was laid back and didn't treat me like a number like it seemed many of the agents with the well known real estate firms did. I was also immediately impressed with his knowledge of construction materials and workmanship which I knew I lacked and would need. So many of these companies want to sell you on the experience of buying a home (a sort of dog and pony show) instead of getting down into the details that in my opinion are all that matter. Anybody can file paperwork and walk you through the process, but not just anybody can tell you what items on a property are likely to raise a red flag at inspection or appraisal or what other items are likely to cost you to fix. I found this depth of knowledge invaluable and frankly I don't think I could have gotten comfortable enough with the home buying process to feel confident I was making a wise purchase. Through it all he remained responsive, at times responding to emails and texts immediately, and seemed to work all hours which was a big plus in a market where properties were selling as fast as they were when I was buying. If you're looking for common sense, down to earth approach to real estate with a local company run by a guy you'll consider a friend by the time you close--there's no need to look any further.

5/5 stars

Big thank you for all of your help, you are a rock star.

5/5 stars

Kevin is very approachable and has tremendous knowledge about the Beaverton/Hillsboro area in addition to providing numerous tips regarding construction and up keeping of a property. Very laid back! Highly recommended!

5/5 stars

Dealing with Kevin was a pleasure. He is dedicated and responsive in not only anticipating but replying to the need of his clients. Kevin has an outstanding grasp of not only what is wonderful about a house, but what is wonderful about its construction and is able to look past the glitz and glam and see the property for not only what it is, but what it can be. Kevin takes the time to get to know his clients wants/needs and takes this into consideration when looking for your new home. He listens and strives to find listings and properties that match those needs. I would not hesitate to work with Kevin again.

5/5 stars

Kevin was always there during the entire process after the offer was made. I was travelling and out of the country but always felt comfortable with letting Kevin handle everything on my behalf. I loved the fact that Kevin was blunt in delivering his views about places we visited. If there was something wrong or if he felt the value of the property was fairly lower than the listing price, he would say so. The most useful part of Kevin's views were his comments about construction, we would always assess the construction of every house and potential repairs. He is familiar with construction and that helped a lot to assess the fair value of a house after factoring in repairs needed. He was also prompt in getting listings to me, we visited many places within 24 hours of listing. I had a wonderful experience with him. I felt the assessment of construction was a unique aspect which Kevin is able to bring to the table.

5/5 stars

As the owner of Bridge City Homes, I have worked with Kevin off and on since 2001. Kevin has marketed homes for me and assisted me in our continuing search for new building lots. He is very energetic and thorough in his efforts and always willing to go the extra mile.

5/5 stars

Great help finding a home - Kevin took the time to explain more than just "it's a nice looking house". I wanted to know about the construction, neighborhood, traffic, recent sales in the area, etc. and he provided it all. I tried a couple other realtors before him but they just didn't know or care enough to help me. Kevin did!

5/5 stars

....you're the best Kevin--that's all there is to it...

5/5 stars

Kevin was more than willing to spend as much time as we needed to find the house for our family. He helped us see things in a new home that we might not have noticed. Once we found our home, we relied heavily on Kevin during the purchasing process and closed earlier than anticipated.

5/5 stars

Kevin was more than knowledgeable and professional with helping me sell my father's home after he passed. It was a challenging property to sell given it was 40 acres and had creeks running through it. When the buyer needed information about things like water rights, Kevin was able to get that information in a timely manner which helped the sale. I recommend Tree House Realty and am going to use them for future real estate needs.

5/5 stars

Kevin has helped me sell and purchase homes and has shown great knowledge and attention to detail that is hard to find. He has handled complex transactions, including a short sale and made them easy to handle. I strongly recommend Tree House Realty.

5/5 stars

Kevin did a great job making everyone involved in the transaction feel comfortable with a difficult sale.

5/5 stars

It was easy to work with Kevin, I trusted him completely.

5/5 stars

Easy to work with, attention to detail, it was a pleasure.

5/5 stars

Kevin's advice on selling our house was spot-on. Our house sold very quickly at our desired selling price thanks to his efforts. Kevin insured that our closing process went smoothly. It was vital that the closing process came off without a hitch due to us purchasing another house in short order.

5/5 stars

I met Kevin in 2006 when I bought my house and I intend to have him list my house when I decide to sell it. He has a great understanding of the local real estate market and is a very good negotiator.

5/5 stars

Surrounded by good people and great with aggressive sellers.

5/5 stars
---